Adventure Elopements are breathing fresh air into traditional wedding culture. To be fair, it has long been a romantic fantasy for couples to throw caution to the wind and run away together in order to flee disapproving family and friends. However, couples today are being a bit more intentional than those opting for the stereotypical Vegas shotgun wedding of yore.
Recently, the motivation driving elopements has shifted as couples are seeking more personal ways of curating their own experience of coming together. Rather than necessarily trying to avoid the fuss of expectations, they are throwing out pageantry in favor of a little more adventurous opportunity to exchange vows.  
Whatever your reasons are, if you're ready to seek an entirely unique wedding, it's a great time to reconsider your options and one way to say an epic "I Do" is with a wilderness adventure elopement! 
What is a Wilderness Adventure Elopement?
To say "I Do" surrounded by awe-inspiring views on an expedition planned with intention is the perfect way to set the tone for your marriage. The intensity of the adventure is up to you, and honestly, with the right crew, hardly anything is off-limits. 
For couples who share a passion for the outdoors, it might just make sense to take this step from the top of a mountain, on a remote beach, or deep in the woods. Never mind the perks, which include saving money, having a ceremony that speaks directly to you as a couple, and of course jaw-dropping photos. 
Because there are options for personal places and details to be included, planning for a ceremony on the trail allows you to create your own unique narrative from start to finish. Perfect for any couple seeking experience over tradition, and isn't afraid of getting dirty. After all, a dirt-smudged hemline is a good indication of a successful outdoor wedding.
Benefits of Being Outside on Your Wedding Day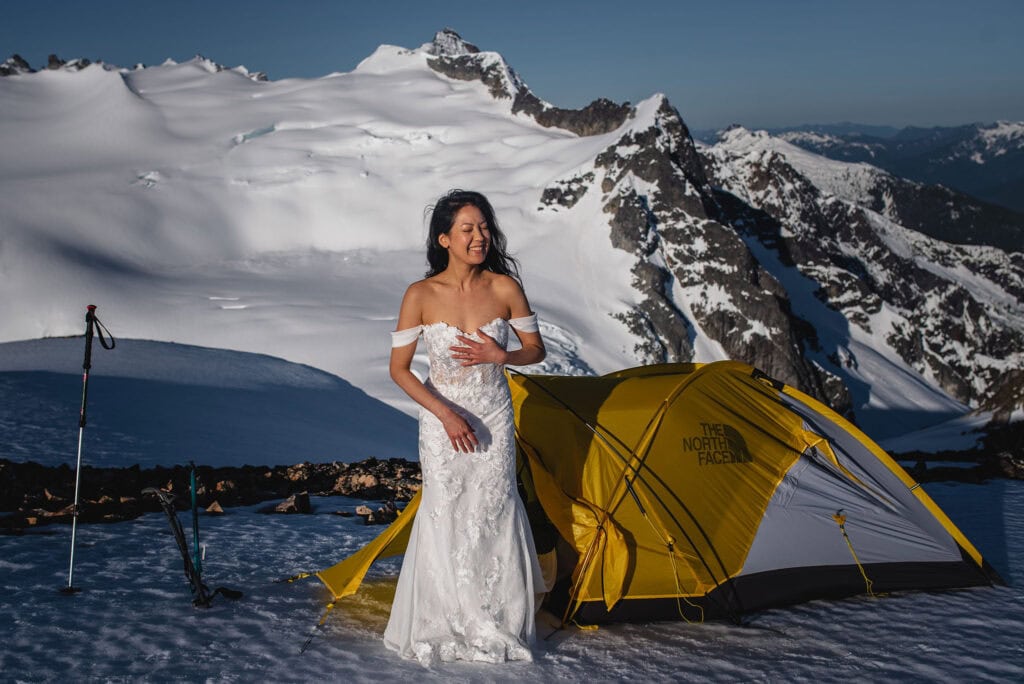 The health benefits of being outdoors are undeniable, in fact, spending just 120 minutes a week in nature is enough to profoundly improve health by reducing stress, anxiety, and blood pressure; calming the nervous system; boosting immunity; and overall increasing self esteem. So for many people, outdoor adventuring has become more than just a pastime, it's directly tied to their health and wellness. 
You could say that being outside is some people's church of sorts, and taking off to be married in nature provides the opportunity to get wed where you go to heal and ensure a stress free affair.
A Different Plan
Not only are elopements typically less expensive, you get to redistribute those funds and curate every detail from dresses to activities. 
Eloping can be an empowering way to claim the narrative of your commitment, making your ceremony a more intimate and personalized affair. 
Don't Feel Like You Have to Leave Everybody Behind
But, it also doesn't have to be limited to just you and your person. You can bring as many of your favorite people as can trail behind you. (So choose your invite-list carefully.) This is your story to write, and your memories to make.
It's not uncommon, these days, to include family members or friends when choosing elopement. But, it can be simpler to say, "all or none," and that's ok, too. The point is that you are prioritizing the commitment and the relationship over how it's done—regardless of who's present.
Ok, You're Eloping, Now What?
So, you've made the leap, and you're ready to get this mission planned. While preparing for this kind of ceremony doesn't require the same scale of planning as a wedding, there's still a lot to consider, not least of which is location!
No doubt you've dreamed of the day you'd take off to _____ (fill in the blank) and finally get to see everything you've pinned to your vision board. Now that you're writing the rules, what's stopping you? Make it a once-in-a-lifetime trip for a once-in-a-lifetime event. 
What's not recommended, is rushing through to the ceremony just because you're forgoing the traditional setting. You can make your plan as intricate and deep with meaning as any traditional nuptials. Unless low-key is your style, you don't have to keep it minimal, either. 
You can still have everything you want, and even bring some of the wow-factor you'd like to keep from a full-scale wedding to your elopement ceremony. 
Location, Location, Location
At the end of the day, you don't want to spend more time than is necessary feeling stressed, that was at least part of why you chose to do things differently, after all. 
This is the beauty of taking off into nature to say I Do. 
When choosing what you'd like to do together and where, some things to consider might be:

What do you love to do together, or feel most connected through?


What is your favorite season, or outdoor setting? 

What expectations do you have that may be impacted by location?
Adventure Elopement Awaits!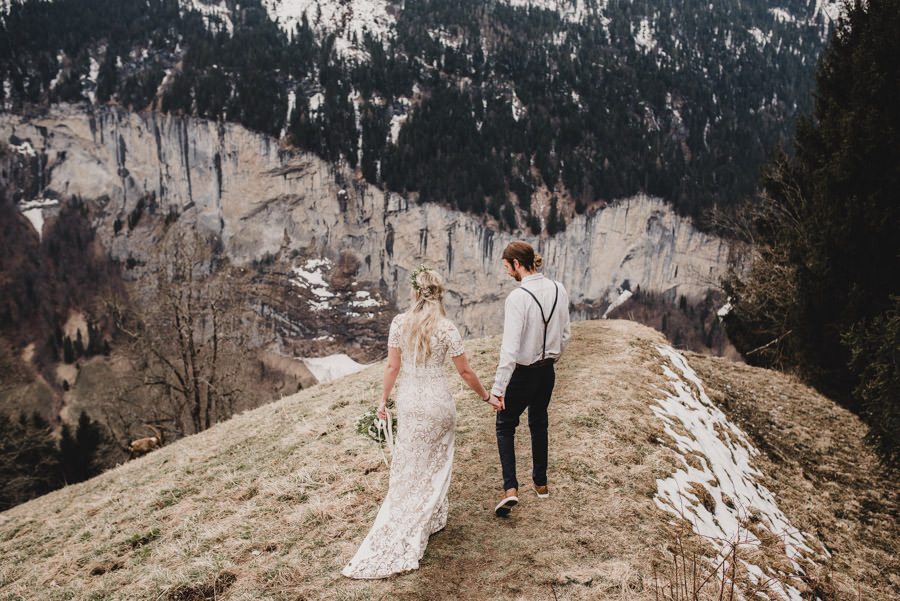 When you close your eyes and let yourself dream big, where are you and your partner and what are you doing together? 
Here are some popular options to consider:
Camping
If camping is something you love to do as a couple, pack the tent and save the date. Include an epic itinerary of your favorite activities, and celebrate your union the same way you live your life—with the spirit of adventure.
Spend your day wandering through canyons you've only ever seen in photos and your nights relaxing by the fire. Have your ceremony at exactly the right moment, whenever the feeling is right. Camping can be the ultimate way to get away from the noise and have a perfectly intimate experience.
Hiking
When choosing to get married on the trail, and whether you're camping or not, getting to your ceremony will likely require that you cover some distance, how far is up to you. Even for the most seasoned of hikers, it's not recommended to take on an extreme hike for your ceremony day so you don't completely exhaust yourself.  
Skip the overnight if you don't have more than a day to invest and want to avoid the extra planning and equipment but still get out into nature. Make the most of your trek by taking advantage of the varied scenery, and get a range of stunning photographs for your wedding album.
Backpacking
Backpacking trips to the deep wilderness allow for some incredible ceremonies in the most unexpected of landscapes. Plus, they can be any length, as there are a plethora of trails to camp along in the PNW to choose from. 
Backpacking also affords some of the more secluded spots, so if privacy is important to you, this could be a great option. For seasoned backpackers, this is a great way to take that once-in-a-lifetime trip for a once-in-a-lifetime reason. 
Kayaking
If solitude is a priority, backpacking isn't your jam, and being on the water is important to you, kayaking, stand up paddle boards, or other watercraft are great alternatives.
Traveling by water can take you to hard-to-reach, secluded shores, perfect for holding your ceremony. Plus, you can mitigate the need to personally carry your accoutrement into wherever it is your heading. 
Sunset Vows, Followed by Stargazing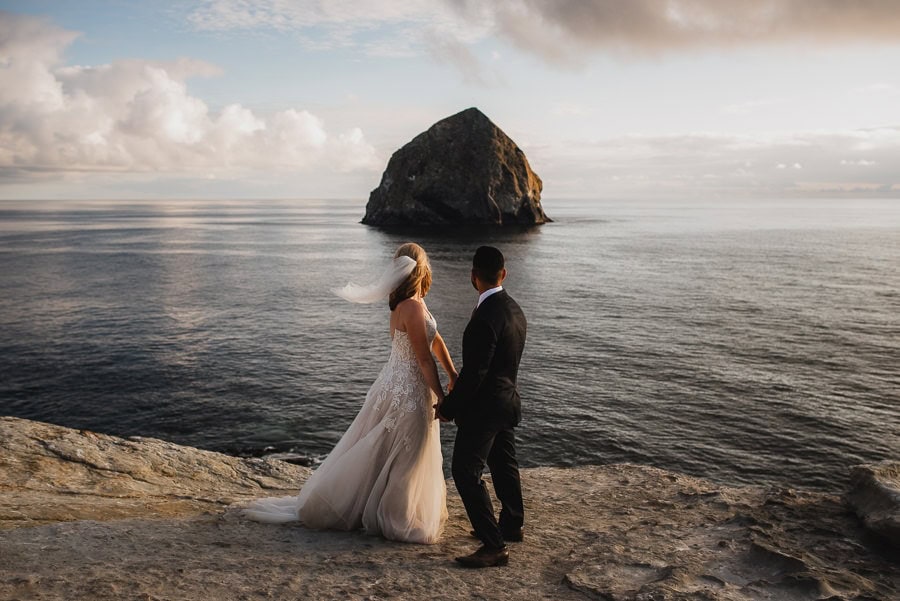 What's more romantic than getting married in front of a watercolor backdrop, followed by star gazing? We'd venture to say, not much.
Stars were used for centuries to determine direction. They have both fascinated us and guided us. Stargazing can be a meaningful post ceremony activity. It can really be a time for couples to stop and reflect and appreciate where they are and what they are there for.
So, wherever you've decided to venture off to, flee those city limits, to where the stars reign supreme. Who knows, in addition to your sunset union, you may also get some incredible night time portraits if the stars are really showing off.

Snowboarding or Skiing
If you want something a little more exciting, elope on the slopes. 
Perhaps you find yourself on the back deck of the PNW icon, Timberline Lodge, or up at the Mazat at Meadows, where the views are going to be perfect for photos. 
Deciding to take your vows to the mountain means you can choose to have your ceremony at the top of the run, or in a cozy lodge. What better representation of the "crazy" ride you're about to embark on. 
Snowshoeing
Snowshoeing is a great option for many couples because it doesn't require a lot of experience, and it's relatively inexpensive. So if you're not "all about the downhill," and hiking a mountain feels out of reach, snowshoeing could be for you! 
After your ceremony and for maximum romance, try snowshoeing under a full moon. There is something ethereal about a snow-laden setting, the insulated hush, and stillness or the sparkle where the light glints off the snow, it's undeniably magical.

Mini-Vacation
Adventure doesn't have to mean physically difficult. 
Head to the coast for a beach getaway and say your vows with the sun setting over the ocean and waves lapping at your feet. There are a million activities to add like chartering a boat, surfing, hiking, or just take it easy. 
Outdoor Elopement Style Trends

You've narrowed down the list of places you'd like to elope to, decided on a plan, and now you're considering what special details to add. All over the internet, you'll find trend lists and conflicting opinions on what's "in" this wedding season, but there are a few things that never go out of style. 
Leave No Trace
If you're not new to adventuring, it probably comes as no surprise that it is strongly  suggested that you review your plans through a lens of sustainability. But it's not just me, best practices on the trail are getting a lot of attention as more people race outside for that grammable shot. 
Wherever you are, using Leave No Trace principles to preserve the landscape you came to enjoy can only enhance that feeling. This is the best way to ensure your marriage location is preserved and there for you to revisit in years to come. 
Epic photos
You've probably noticed a trend toward unique and sweeping landscapes in wedding photography. Especially if you've made it this far. 
Getting outside and exploring all that nature has to offer is a great way to land incredible photos. If you're eloping, chances are your ceremony will only include a few of your closest people, if any at all, so make the photos count!
Find a photographer who has experience with this type of photoshoot/ceremony. If they have previous experience, they are going to be able to help you identify locations, think through packing lists, and advise you on what will work for your skill level outdoors.
Flowers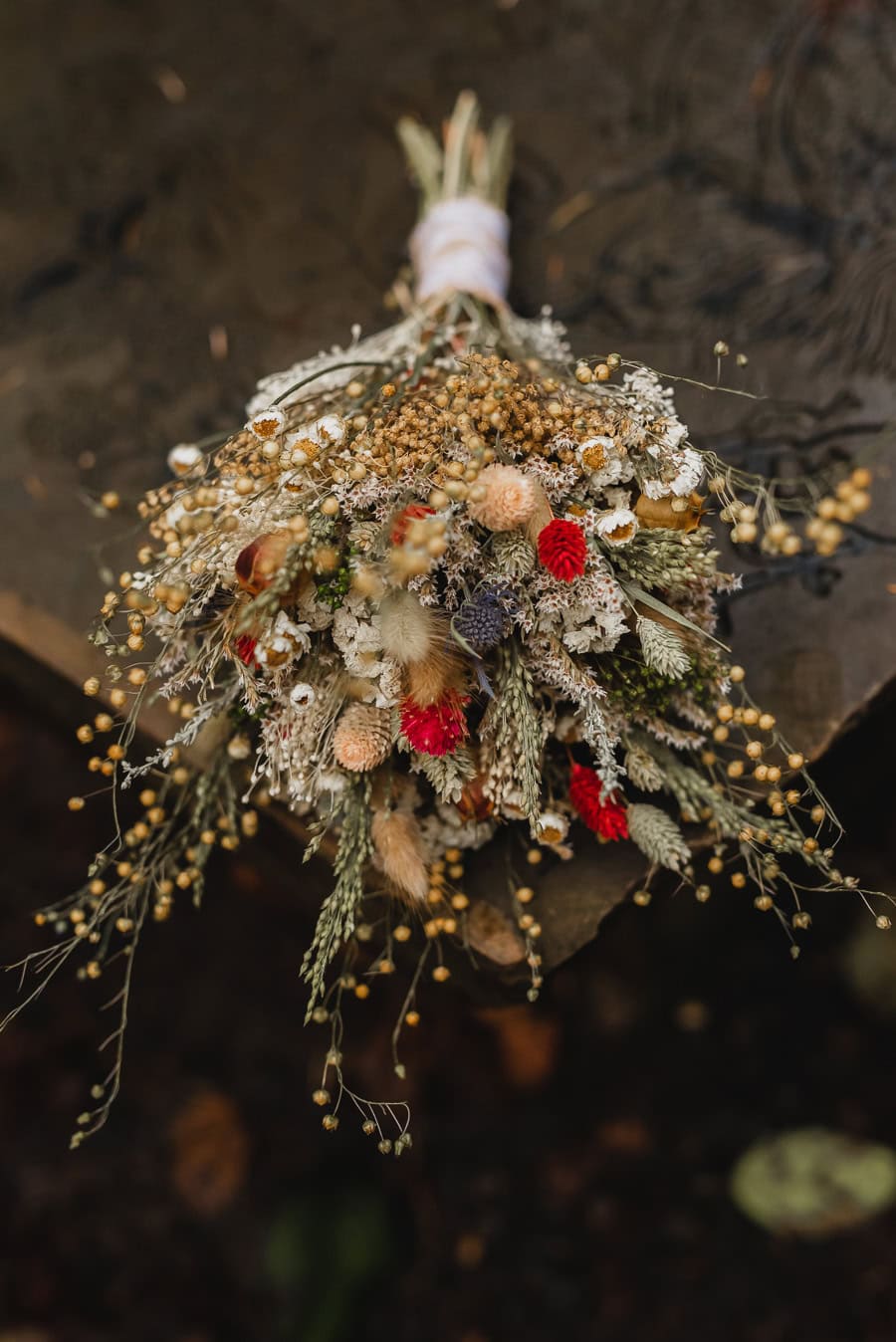 On the list for a sustainable ceremony: Flowers. If you're adventuring into the wilderness, it's best not to bring outside flowers with you to keep from exposing the pristine wilderness to invasive species. However, there are still a few ways to incorporate flowers into your ceremony. 
Many couples are opting for dried or fake flowers in place of fresh ones, including silk flowers, or wooden flowers. These are all great options for flower crowns, boutonnieres, or even bouquets, and a great way to keep a piece of your union beyond the day.
Another option is to secure flowers or plants native to the region where you'll be eloping, ahead of time and from a sustainable source. This way you can avoid picking wild flowers and ensure your bouquet is noninvasive.
Fashion
This journey down "aisle" (or trail) is a once-in-a-lifetime opportunity, so this is your opportunity to go big on your outfits to make for the most epic photos possible. Whatever big means to you, there are some things to consider depending on where you plan to exchange your vows.
If you're looking for a sustainable option for your attire, hand-me-downs and thrifted pieces are budget-friendly options for wedding attire that are becoming more common. With trends coming and going, it's pretty likely you can find something used to adapt to your current style.

If you're planning on hiking your way to the top of the mountain, or a cliffside, a great alternative to a veil is the bridal cape. Veils are light and can be carried away by the wind easily, whereas capes stay put. They also make for some high-drama photographs, catching the wind without taking off.

Knee-length and higher wedding dresses are trending this summer, and they're great for eloping on tricky terrain. Beyond trends, shorter dresses come with a lot of benefits. For the sportier couple, short dresses can be a great answer to some of the complications that come with a full-length dress, including better maneuverability and attracting fewer sticks or debris.
Or, simply throw out the idea of a dress all together and make what works best for you, work for your ceremony! All-white fancy athleisure? Custom jumpsuit? Anything goes as long as you're comfortable and can manage.
If your pack is already a little too heavy, and packing a heavy wedding dress is out of the question, this could be a great way to be hike-ready and ceremony-ready.
Adventure Buddies
If a ceremony in nature wouldn't be complete without your crew, some couples are opting for longer trips, with a few of their favorite people. Instead of making it one or two days in nature, they're making it an entire elopement week. That's the appeal of eloping: you get to set the terms. 
I'd also be remiss to not mention our furry friends. If you want to include pets in your ceremony or your wedding photos, consider also asking someone along who can watch and manage them so you're not distracted.
Hitting the Trail
Once you've decided on a location and the type of activities you'd like to include then it's time to sort out the details, and perhaps most importantly, your timeline. 
Elopement photographers are a great resource for helping to fill in the details of your timeline because they're familiar with the nuances of the day: the best time of day for certain types of photos, estimating time between activities, what times of day have the best light to take advantage of, and other small details that might be easy to overlook.  

A Comprehensive Checklist
Though the checklist for an elopement is incredibly pared down from that of a wedding, it's still important to make one. It's a big day and you'll want to make sure you don't miss anything. 
And, this list is just a starting point, consider that there will be specific list-items to add related to the specific events of your day.

Officiant (unless self-solemnizing in Colorado)

Marriage license 

Pen with black ink

Rings

Any local permits required for access to your location, if needed

Several changes of clothes, shoes, and socks

Toiletry bag

First aid/bear spray/bug spray/headlamps

Water/snacks

Layers, including rain gear

Photogenic outer-gear, like a fancy umbrella and attractive blanket

Sunscreen

Hiking boots or shoes



How to Carry Gear
It's likely that if you're going on a more advanced trek, it's not your first time and you have a handle on what to bring and how to pack it. Carrying your regular gear might be something you're used to, but you'll have a few extra things to bring along on this journey.
Something that seems obvious, but you'd be surprised how often is overlooked is packing your wedding necessities. Wherever you're headed, it's a good idea to pack your marriage license, vows, and rings in a waterproof bag in a separate part of your pack. Keeping it all together will make preparing for your ceremony that much easier and help you ensure nothing gets left behind. 
If you're planning on changing into your dress or suit once you're at your destination, there are extra considerations to make in packing. Rolling instead of folding can keep your outfit wrinkle-free and help preserve some space in your pack.  
The Art of Changing Outdoors
The best place and how to change out of your gear and into your dress or suit will look different depending on the terrain you choose to exchange your vows in. No doubt, it's going to be tricky. Wherever you choose to change, be considerate of your surroundings and as much as possible use 'Leave No Trace' principles. 
Make the most of your location and try to find some privacy, separately if possible, so you can center and get present with the occasion. This is a great opportunity to review your vows, calm your nerves, and take a deep breath. This will allow the energy to shift and give the ceremony the gravity it deserves.
Let the Elopement Begin
Once all of the planning and details are in place, the stage is set for a memorable day. Remember, this is all about your journey as a couple and getting married is a huge next step—doing it the way that feels right and perfect for you and your partner is becoming more and more acceptable and something to encourage. As perspectives continue to shift, so too will our expectations and traditions around getting married.
Can't wait to join you on the trail!