Cape Kiwanda has long been one of my favorite Oregon coastline views. This golden sandstone headland, flanked by sprawling beaches and dramatic cliffs, makes for an enchanting view. There are abundant opportunities for gorgeous photographs, including "the other" Haystack Rock, miles of rugged coastline, and the drama of the Pacific ocean. 
When I met Courtney and AJ for their engagement session it was an unseasonably sunny fall day at the Oregon Coast, punctuated by incredible moody clouds. It was a perfect day to photograph their engagement session.
They were an easygoing couple, and it was clear as we made our way out to the Cape that these two were really into each other. Big smiles and stolen glances indicated that capturing their chemistry in photos was going to be fulfilling. 
The trek from the beach parking lot to our cliffside destination began with a short hike a half mile up The Great Dune, and out to the cape itself. It takes about thirty minutes to scramble up, and can be a bit challenging with its 250 foot sandy climb, but Courtney and AJ  were up for it! The golden light amplified by the warm sandstone cliffs complimented the electricity between the two, making for stunning photos.
It wasn't long before they seemed unaware of my lens. Their nerves calmed, and the affection came easy. The beach offered an array of backgrounds, from rocky beach caves, tide pools, and seaweed-coated rocks, and, of course, the glowing beach itself. The waves crashing against the rocks behind Courtney and AJ really added gravity to the connection between them, balancing the laughter and lightheartedness. 
Needless to say this was a rewarding experience and one I was delighted to share with Courtney and AJ. I'd be more than happy to photograph at this location, again.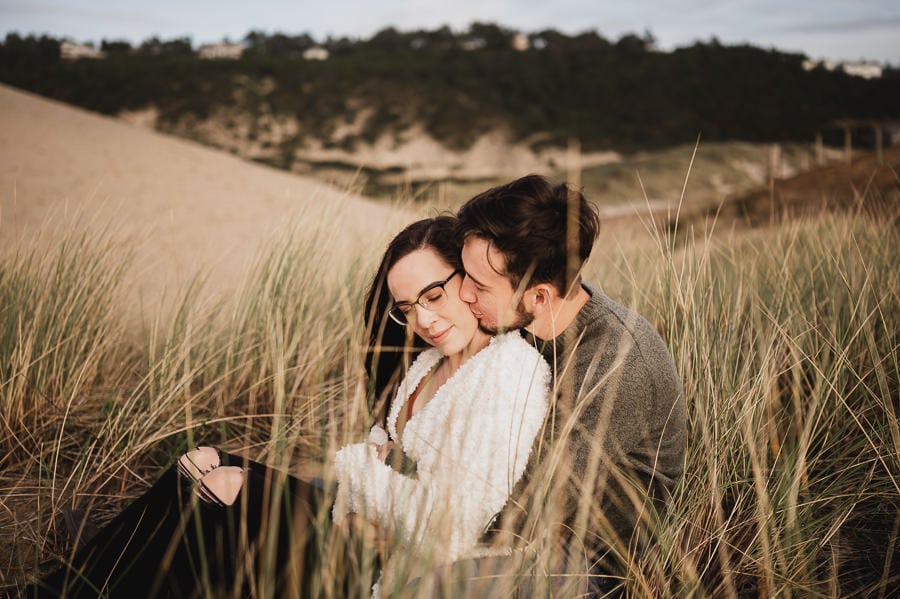 Things to Consider When Visiting Cape Kiwanda
Weather & Gear
As with any adventure, it pays to be prepared. If you're visiting the Oregon Coast it's especially smart to pack layers, no matter the season. Even on the sunniest of days, a chill can quickly overtake the beach as clouds roll in or when the cool marine air settles after sunset. 
In this neck of the woods, you never want to head out without at least some gear, no matter how much sun is promised. Wind, rain, sleet, and hail can come without a moment's notice. Being raised in the PNW, I know it's nothing we can't handle with a little forethought and the right equipment! 
Similarly, you'll want the right protection even in sunny weather. With exposed beaches, shade is hard to come by. Parasols, hats, and sunscreen can all help beat the heat during and in between shots.
Though no specialized gear is needed to hike Cape Kiwanda given its short trails, it's always a good idea to bring the right shoes, a snack, and extra water, as well as some of the weather essentials, just in case. 
Even with the risk of rain, especially in Oregon or Washington, there are perks to scheduling a beach photoshoot in the fall. One major benefit being that summer crowds have dissipated. 
No matter the season, when it comes to Cape Kiwanda, there are always fewer  people on the cape than on the beach, providing great options for more secluded spots where couples can get comfortable in front of the camera.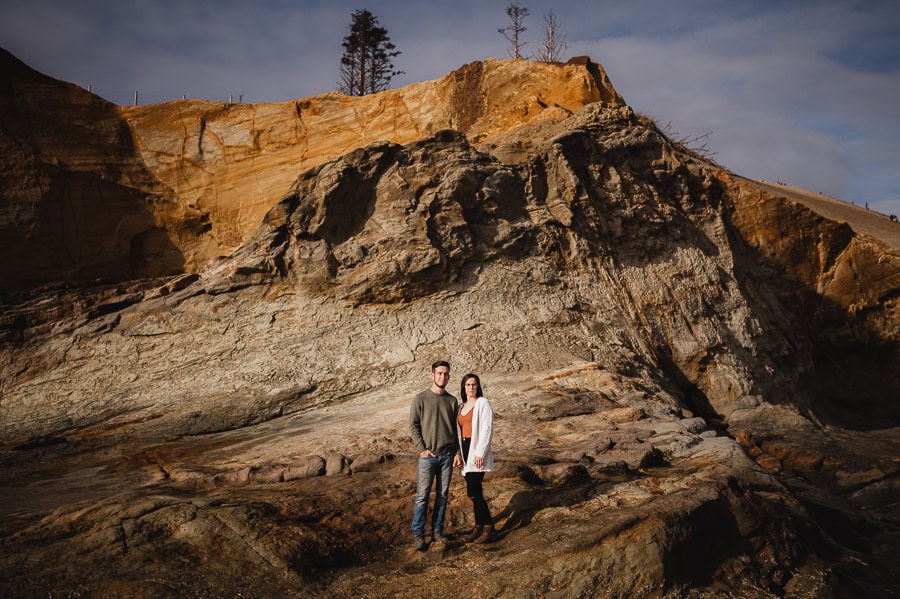 Terrain
Along with a rugged and beautiful coastline comes the need for caution, especially when navigating the cliffside edges. 
In fact, just this May, 2021, new fenced walkways were added to guarantee the safety of visitors. Unlike most of the northern Oregon coast, which is mostly composed of basalt, the cliffs of Cape Kiwanda are made up of sandstone.
And it's not just you that needs protecting in this environment, being made of sandstone, these dramatic and sweeping landscapes are fragile and deserving of caution and respect.
As a result, please note that access to some areas pictured may have changed and may not be permitted.
What else to enjoy while visiting Cape Kiwanda
Cape Kiwanda offers a range of activities to immerse yourself in, it's no wonder that it's one of the state's most popular attractions.
It is one of three capes that make up the Three Capes Scenic route, joined by Cape Meares and Cape Lookout. Though it's the smaller of the capes on the 40-mile stretch of road, it's loaded with impressive views and geological structures.   
Being just a mile north of Pacific City and right between Tillamook (cheese please!) and Lincoln City, the cape is a perfect place to take a break, to spend a day, or even several nights enjoying any one of the many activities available.  
Surfing
Nestucca Bay hosts a surf contest every August, attracting high-profile surfers with its clean beach break and reputation as a top surfing destination in the region. 
Hang Gliding
Consistent winds make nearby Pacific City one of the best places in the PNW for hang gliding. The best time of year is spring or summer, and you can even take lessons at the Oregon Hang Gliding School if you don't have experience.
Kite Flying
If hang gliding feels like too much for you, fly a kite! Long considered a favorite activity in Pacific City, it's a quintessential beach day activity. If you don't already have a kite, no problem! Support a local shop and pick one up while you're in town.
Tide Pools
Poking around tide pools isn't just for kids. Check those tables for minus tides and some of the best tide pooling around. 
Just remember to keep your eye on the rising tide, and try not to ever turn your back on the ocean. We mean it! Oregon's coastal waters are, well, not especially peaceful, but the Pacific's choppy waters can make for amazing photographs.
Craft Beer
An institution pretty much since its arrival in 1996, Pelican Brewing Company offers craft beers right on the beach, making for an unforgettable spot to enjoy a beverage and a snack while the sun sets over the waves. 
It was truly a pleasure photographing this engagement session. Wishing Courtney and AJ the best with their upcoming wedding!
View more photos from Courtney and AJ's engagement session at Cape Kiwanda.