Booking a wedding venue may be one of the biggest wedding planning decisions you make. There are a number of factors in play: location, price, easy of access, aesthetics, services offered, etc. It can be a lot to account for everything, and it can be easy to let important details fall through the cracks. For that reason, I've compiled 10 things to consider before throwing down that deposit on the venue of your dreams.
Seeing as how I'm a photographer, I'll admit that I have more of a photographic perspective on this topic. So a number of these considerations are with photography in mind. A different vendor may have more to add or may place greater importance on other aspects. So please take these tips with a grain of salt. But I do hope they help you book a wedding venue that allows you to live your wedding dreams to their fullest.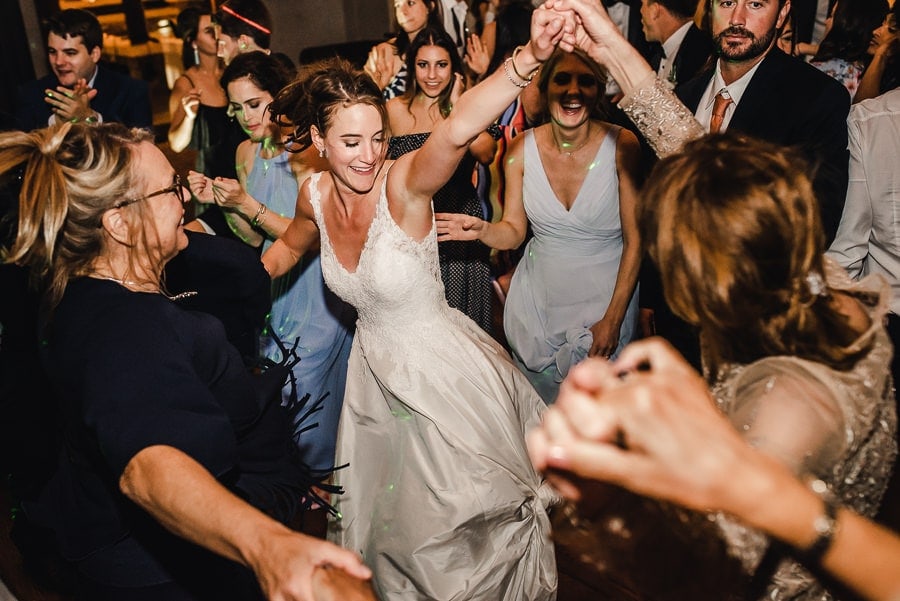 1) Does The Venue Restrict Hours?
Nothing can kill a reception dance party more than having to turn the music down to a whisper. If you're hoping to have a late-night dance party, then making sure that the venue can accommodate this is very important. Some venues located near residential areas have noise ordinances that require music to be turned down at a certain time. This is often at 10 pm. A lot of weddings are forced to more or less wrap up around this time, unless a quieter nighttime activity is allowed, such as drinks around a fire pit.
I've also encountered a few venues that restrict the earliest arrival time. They just won't staff the place until a given hour and are unwilling to extend the time even if  you offer paying more. This can be problematic if you want to get ready at the venue and then take portraits before the ceremony. Sometimes due to the restrictive arrival time there's not enough wiggle room to get ready in a relaxed manner. In this scenario, you may have to get ready and perhaps even take portraits offsite if you're doing a first look, which can complicate the wedding day logistics. If you'd prefer to simplify things, when booking a wedding venue choose one that is as flexible as possible with arrival and departure times.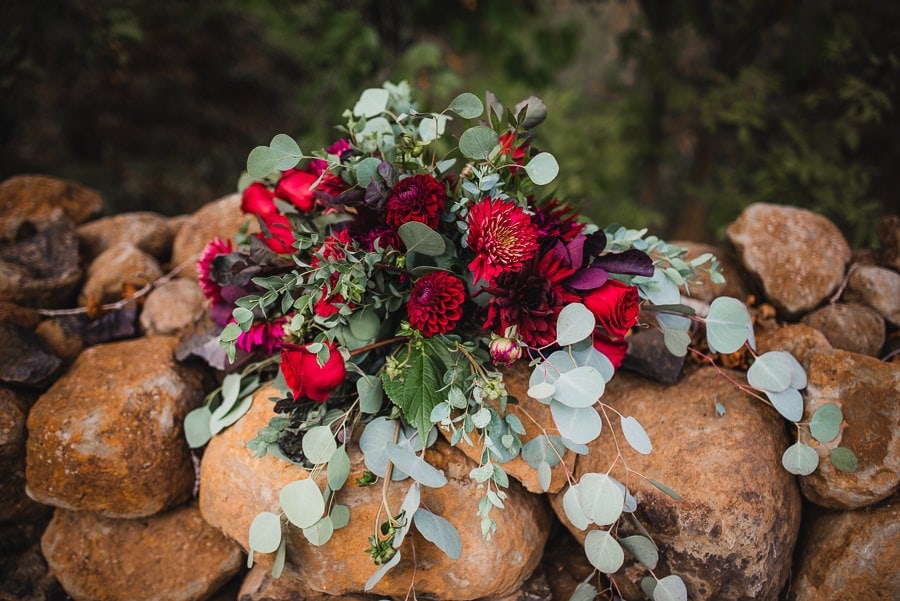 2) Does The Venue Require That You Pick From A List Of Pre-Approved Vendors?
You'll probably run into this more in big cities, resort towns, and hotels, but sometimes venues will have a pre-approved vendor list. You may only have the option of picking vendors from that list. Either that or they'll present a list without telling you that you have other options. Venues do this for different reasons.
Sometimes it's for liability reasons. They may have a few vendors that they trust to not screw up. As a business, they want to limit their risk of a light falling on someone's head. Some venues have a particular set of rules. They don't want random vendors mucking up the place. Another reason they may do this is to make money. Some vendors pay popular venues to include them on their vendor list. For some couples, a vendor list is super handy because it narrows their options, and they can make decisions more efficiently. But it can be a huge bummer if you're the type of couple who has already done a bunch of research and found an awesome caterer, florist, videographer, etc., that you really love. So definitely check on this before booking a wedding venue.
3) Does The Venue Have Nice Getting Ready Rooms With Natural Light?
Having the option of getting ready at your venue is always super convenient. It will really simplify your logistics and reduce the stress of having to wade through possible traffic between locations. However, not all getting ready rooms are created equal. Some are tiny and don't accommodate large wedding parties. Some venues only have one room and the groom is left with nowhere to change but a bathroom. Other getting ready rooms are in drab basements with no windows and have terrible lighting. If they have florescent strip lights on the ceiling I urge you to run for the hills.
Having a spacious room with big windows providing beautiful, natural light will really benefit your photos. It will also create a relaxing atmosphere for yourself. From an aesthetic standpoint, I encourage couples to think of their getting ready locations as an extension of the wedding itself. If it ends up that you have to get ready offsite, try to find a nice location that fits with the vibe of your wedding. If you get ready at home, tidy up the house beforehand and choose the rooms with the best natural light.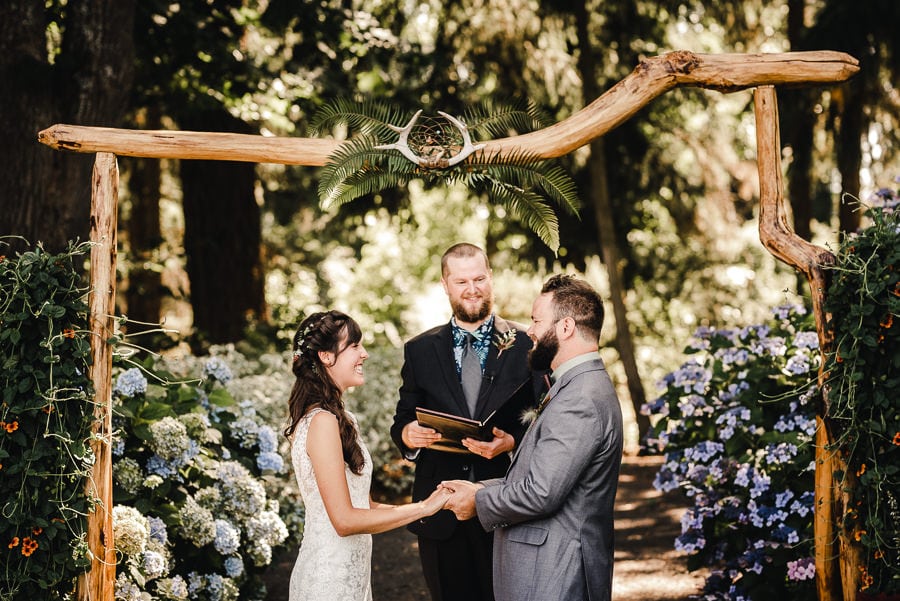 4) Does The Venue Know The Best Ceremony Setup For Your Time Of Year And Time Of Day With Lighting In Mind?
Photographically, this is a big one if it's a sunny day. If it's overcast it's not that big of a deal. But I can't tell you how many times I've arrived to photograph a sunny ceremony to find that it's set up in awful lighting. Venues are in the business of hosting weddings, and they should know the ceremony lighting scenarios on their property. They should know various ceremony setups for different times of the year and different times of day. However, not all of them actually do.
One of the worst kinds of lighting for a ceremony is speckled sunlight. This occurs on a sunny day when sunlight shines through leaves and branches and casts light speckles everywhere. You can tell by looking at the ground. If you see scattered sunlight this is no good. This will cast uneven light on anyone standing in this area. It looks awful in your photos, as it's particularly difficult to photograph. Another scenario that is undesirable is when the sun is positioned too far to either side of the ceremony. You may end up casting an awkward shadow on half of your fiancé's body, an effect you really don't want.
Ideally you want the same lighting conditions covering the entire ceremony area, either all of it in complete sunlight or complete shade. At the absolute minimum, you'll want to have you and your fiancé in one of these lighting scenarios. The sun shouldn't be clipped by buildings, trees, or a trellis made for you to stand under. To avoid this, you should wait for the sun to fully set behind these objects or give the ceremony enough time before this occurs. When you're in complete sunlight, you should orient the sun either directly in front of you or behind you. If it's slightly to one side that's manageable.
If you find a really lovely venue that you're set on but the manager can't provide lighting information, there's an app you can download called Sunseeker. With it you can visit your venue and type in the specific day and time of your ceremony. It will point in the direction of where the sun will be on your wedding day.
One way to circumvent the lighting issue is to create shade for yourself. You could build a structure that hangs a sheet or cloth above your heads to diffuse the harsh sunlight. This will have the added benefit of keeping your cool on a hot day so you're not sweating profusely in front of all of your guests. Usually having the sun low in the sky is good for ceremonies, but when using a diffusion cloth, it is most effective starting your ceremony with the sun high in the sky so that you're fully in the cloth's shade.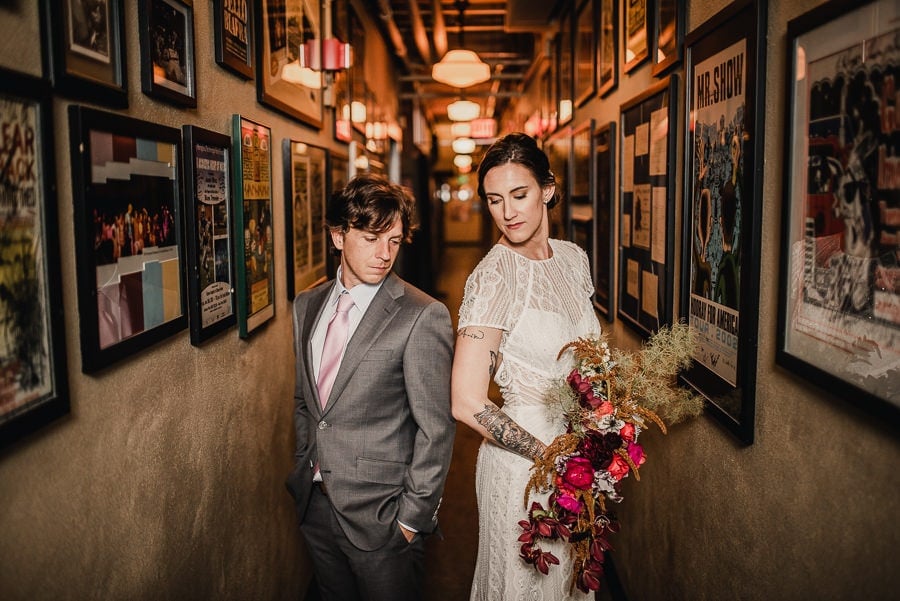 5) Is The Venue Location Visually Interesting both outside and Inside?
Let's say you find the perfect outdoor venue for your wedding. It has epically beautiful views. You're super stoked. Then it rains on the day of your wedding, and the only options you have for taking portraits is getting drenched or shooting under the one tiny awning available.
I don't mean to give you too much to worry about, but I do think it's a good idea to have some contingency plans. Even if there's a small chance of rain on your wedding day, it's really nice if your venue has the added benefit of having some beautiful indoor locations as a fallback. That way if some freak storm sweeps through you can rest easy that you'll have a place to keep dry while still having your picture taken.
Check with your venue coordinator and ask about any indoor areas that they might have that are interesting. Or you can do a walkthrough of your venue with this in mind. Additionally, you can scope out the surrounding area for interesting businesses. A freeway overpass will even do if you're into a more urban feel. Another idea is to rent a cool hotel room or Airbnb for the day. It can double as a getting ready room. You'll just want to have the room cleaned before pictures start. If all else fails you can rent a local photography studio on an hourly basis. The idea is to have an indoor option or two within a few miles of your venue so that it doesn't disrupt the timing of your schedule too much.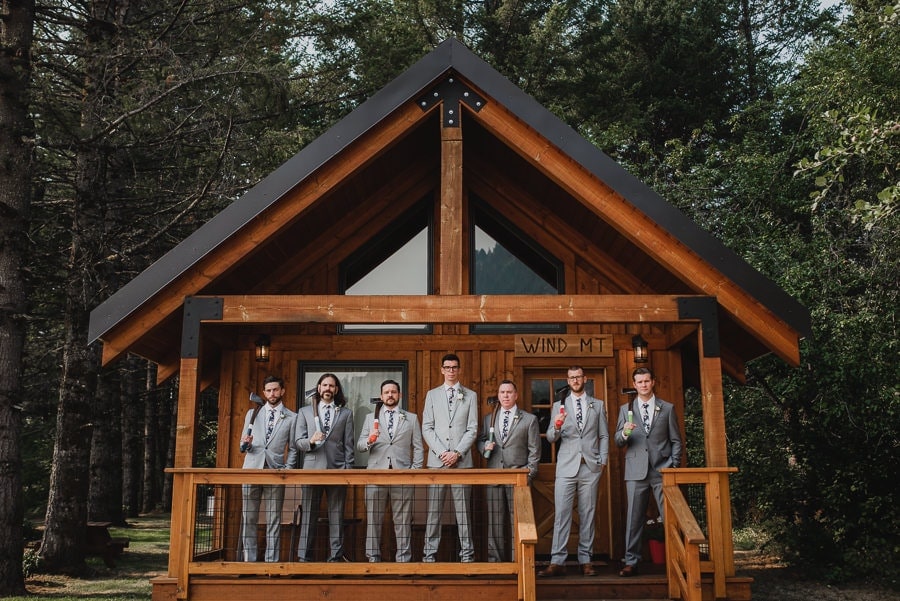 6) Is There Lodging Nearby Your Venue For Your Out-Of-Town Guests?
This may seem super obvious but it's important not to overlook. It's a good idea to check your wedding date on event calendars to see if there are any big events happening near your venue the day of your wedding. The last thing you want to happen is have all of the rooms book up in the most convenient hotel because a conference is going on. Try to book a block of rooms well in advance. You may even get a discount as well, and your guests will have the added bonus of running into each other and connecting in the hotel lobby before and after the wedding. This can facilitate a community feeling as your friends and family get familiar with each other that will roll over into your event.
Also keep lodging in mind if you think having a camping wedding sounds like fun. Some out-of-towners may not be super keen on the tent or camper life and would prefer a hotel or cabin. The same can be said for the respected elders of your clan. Be sure there's a comfy place nearby the venue for them to lay their head at night after they show all the youngins how to really tear it up on the dance floor.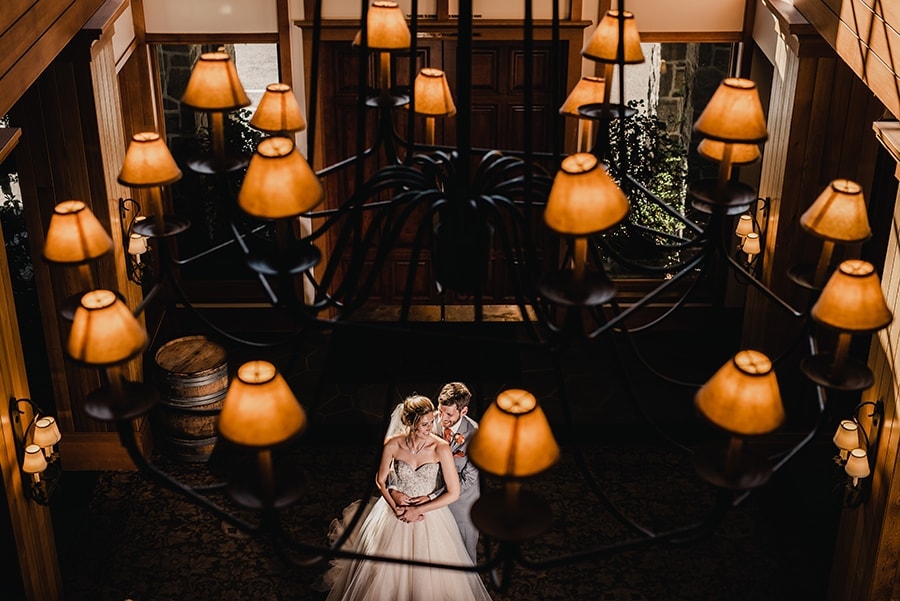 7) Does The Venue Limit Where You Can Take Photos On The Property?
There have been a few instances when I've arrived at a venue and been like, "Oh, that's cool! I want to take portraits over there!" And then I'll get word from the venue coordinator that that area is off-limits to photography. The thing is, every venue has different rules about photography. Some will give photographers complete freedom to take portraits anywhere on the property. Other venues make certain areas off-limits. Let your photographer know if there are any limitations so they can scout more efficiently and concentrate their creative energies on the areas allowed.
I know one golf resort in town that won't allow you to set foot on any of the greens. But I also know another that's happy to provide a golf cart and lets you go nuts all over the property. Museums also often have varying restrictions. The important thing is to remember to talk to the venue coordinator before signing that contract and ask them if the venue has limitations. That way you can weigh the pros and cons of making a booking taking into account the photo potential. Also keep in mind, that some venues will from time to time loosen rules under special circumstances. So don't be afraid to ask and see if they're willing to budge. As my father says, "The squeaky wheel gets the grease."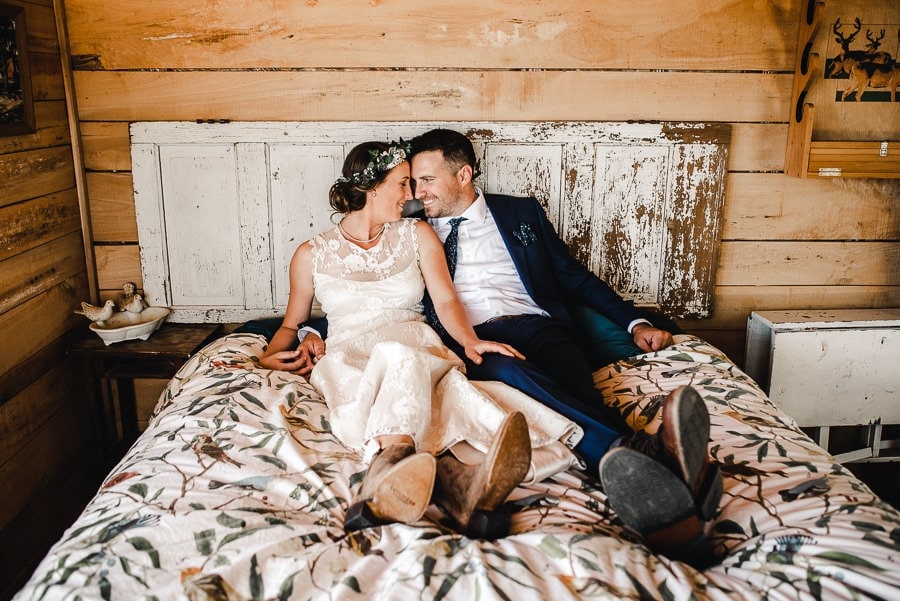 8) Does The Venue Supply Any Bonus Amenities Or Features: Lighting, Lodging, Tables, Activities, Etc.?
From time to time there's a venue out there that throws a little something extra into the pot that sweetens the deal. This could be an amenity that saves you money, like providing tables or lighting during the reception. Or maybe it's a nearby activity for your guests to enjoy before the wedding gets underway. I shot a wedding once at a venue along the Deschutes River that provided white water rafting tours. So the bride and groom treated all of their guests to a trip down the river. I had another couple who rented an Airbnb that had a really nice wiffle ball field. So the whole wedding party played a game before getting ready. Another wedding I shot took place at a venue with a miniature golf course, which guests enjoyed during the reception.
In the photo above, the couple got married at a private property that hosts an annual music festival. Atop a nearby hill on the property there was this cute, little cottage. The bride and groom stayed in it the night of their wedding. It was that added touch that made the venue extra special. So when booking a wedding venue, keep in mind that a well-chosen venue can really elevate the overall experience if it includes something unique and special for you and your guests to enjoy.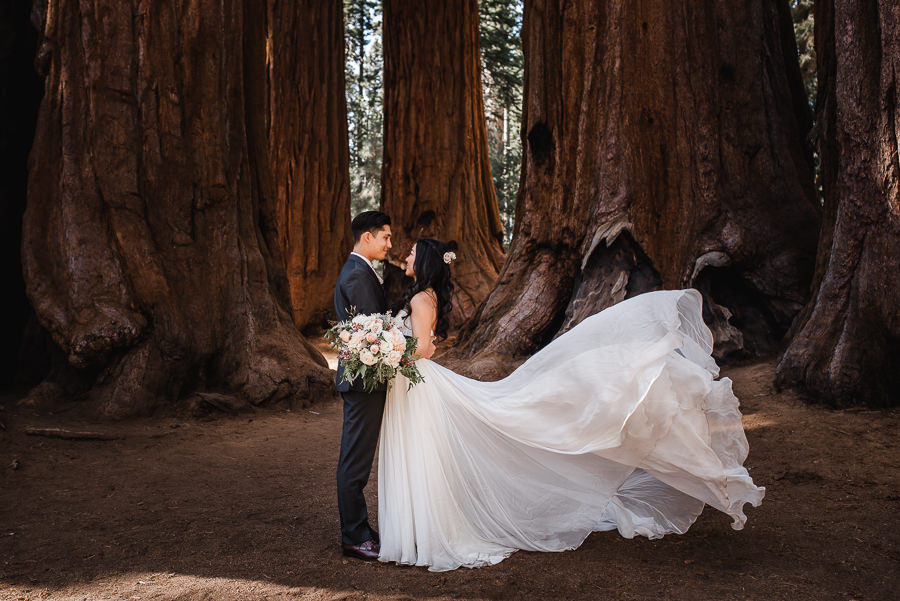 9) Do You Jive Well With The Venue Coordinator?
I unfortunately don't have a great image to illustrate this so I'm hoping the flowing, magical dress will distract. 🙂
This is really a question you should ask yourself about all your vendors. I would encourage you to be excited about everyone who's working at your wedding. After all, it's your wedding. It's so much more special when you feel like you've surrounded yourself with vendors with whom you connect. But this is a post about venues so I'm going to apply this to that specifically.
A couple years back I photographed a super cool couple who hosted their wedding in an extra beautiful location. They told me as much during our initial meeting. The only problem was that they said the venue coordinator was a little particular. They had a lot of rules and was kind of grumpy. The couple rolled their eyes at this, as if to say the venue coordinator was quirky but not that a big deal.
However, the day of their wedding the bride became noticeably irritable when the venue coordinator kept badgering her with questions. At a certain point the bride just started avoiding the coordinator all together. I wouldn't say that the coordinator necessarily did anything wrong. But their energies just didn't aligned at all. The bride was laidback and preferred to go with the flow while the coordinator was more by the books. At the end of the day, it was a stressor that just didn't need to happen. If you're thinking about booking a wedding venue but you're not connecting with the folks running the place, it might just be best to steer clear.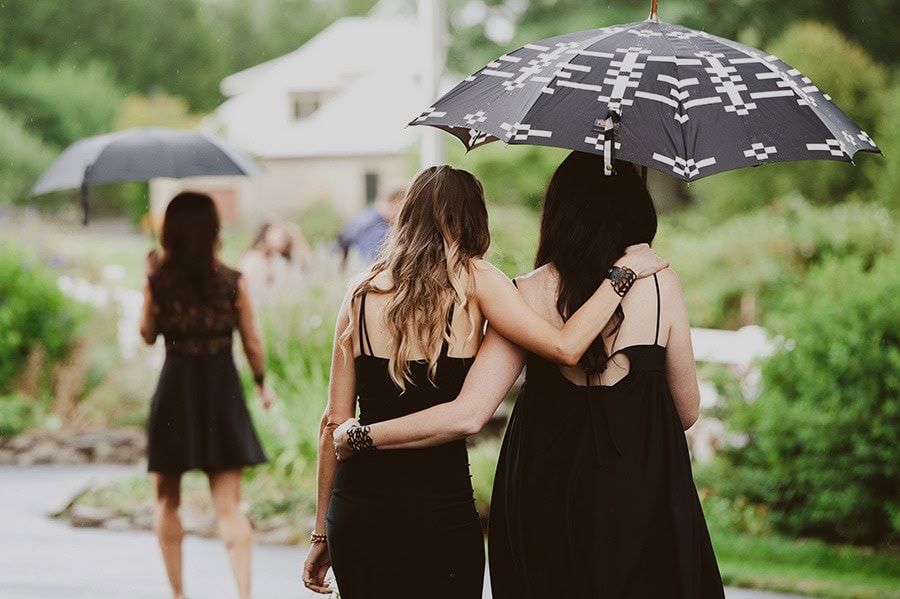 10) Does The Venue Have Rainy Day Ceremony Or Reception Options?
If you're getting married in a sunny location like California, you may not have to worry about rain during your ceremony or reception. But where I'm based in Portland, Oregon, it can rain on any given day of the year. Even if you're getting married in the dead of summer and the chances are considerably high for a clear day, having a rainy day plan in your back pocket will put you at ease.
At least have the number for that wedding tent rental company on speed dial just in case the forecast calls for inclement weather. That way you can make a last-minute call the day before without scrambling to do the research. If there's indoor availability at your venue, but you're planning your wedding outdoor on the lawn, talk through what options there are with your planner for moving things inside if the weather takes a turn for the worse.
11) What's The Venue's Parking Situation?
If you're having a larger wedding, say 200 guests, you'll definitely want to make sure that there is enough parking for all of your guests at the wedding venue. Often times if it's an outdoor venue, they'll have a large field somewhere for everyone to park. But this isn't necessarily always the case. In the instance that the venue won't have enough room for parking, you may have to hire a transport company to shuttle everyone in. I've seen couples get really creative with this by hiring school buses even.
(Side story: The groom in the photo above was really into this idea because he was from Australian where they have white school buses. He'd only seen yellow ones in the movies. So he really got a kick out of it.)
However, parking isn't just a logistics problem for large, outdoor weddings. Weddings in the city can pose challenges as well. There may not be enough street parking. Are there parking garages nearby? If so, it's a good idea to contact them to ensure that enough parking spots will be available. Some garages will allow you to reserve spaces.

12) Will There Be Other Weddings Going On Elsewhere At The Venue And Will These Other Weddings Limit Photo Potential?
Imagine if you missed out on having your portraits taken with the magical background in the above photo. That would really suck! This would never happen at your wedding, right? Well some weddings have multiples locations on their property to host weddings. This isn't necessarily the end of the world. But there's a potential for two or three other events going on during your own. Usually, venues I've been to that do this do a pretty good job creating enough space so there's little to no overlap. And when there is, it's kind cute to holler congratulations to the other couples getting married.
But if you're looking for an extra intimate environment sometimes going with a venue that is dedicated just to you might be the ticket. From a photography standpoint, having multiple weddings going on can create some frustrating situations. This usually occurs when two photographers from different weddings get it into their heads to shoot at the same location at the same time by chance. If it's a really cool spot you don't want to pass up, you could end up waiting around for the other couple to finish. Or your photographer may move you along to a less interesting backup location. The real shame is that it can waste valuable shooting time.
Having said all that, chances are that you'll have to make some compromises with the venue you end up booking. That's okay because your wedding is still going to be beautiful. It's important to educate yourself on the possible pitfalls of wedding planning and how to avoid them. But I encourage you to not get overly caught up on everything above. I wish you the best with your wedding planning! 🙂 — KC