Kennedy and David have the kind of easy chemistry that you see in couples who've been together a long time. I got to know the couple a year before while shooting their engagement photos at Government Cove and was excited for the opportunity to capture the next chapter of their journey. It always helps everyone feel more comfortable in front of the camera when we've worked together before.
Set on 24 acres in Oregon wine country, Scholls Valley Lodge is an idyllic setting for a wedding ceremony and reception. A converted barn, the Lodge has been renovated to what many might describe as "elegant rustic." It definitely matched the couple's laid-back but elevated vibe, the perfect venue to say their I Do's.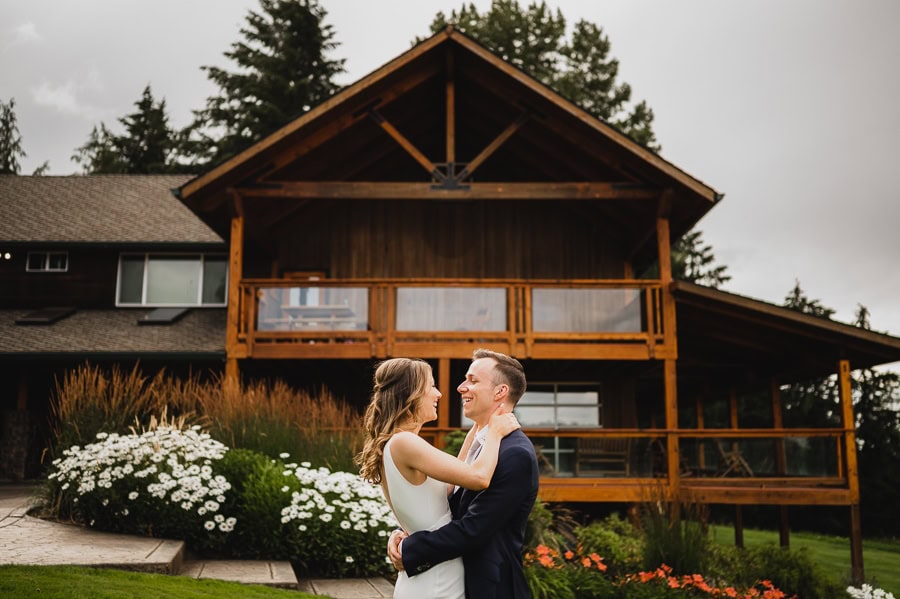 Its 360-degree view provided an impressive setting, surrounded by an expanse of rolling hills, its own vineyard, ancient oak trees, summer wildflowers, and even Mt Hood in the distance. With so many varied landscapes, they had plenty of gorgeous backdrops to choose from for their photos.
The wedding party looked stunning, with every detail accounted for. From the groom's perfectly tailored suit to the bride's flawlessly draped wedding gown and the carefully curated flowers, nothing was missed. The Lodge is a flexible venue, allowing couples to bring in their own vendors, so Kennedy and David were really able to put their personal touch on everything.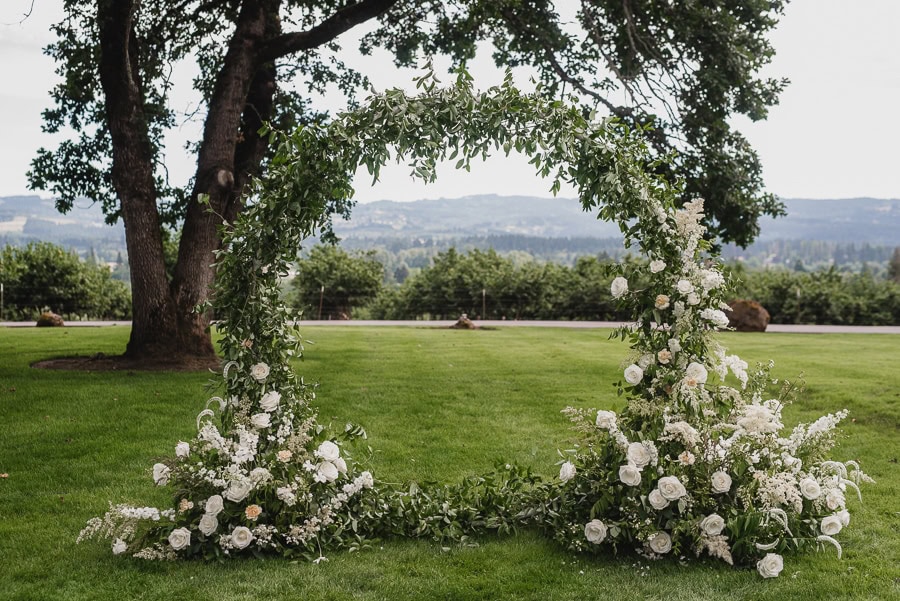 Though there were plenty of upscale elements to the wedding, Kennedy and David let their fun and relaxed attitude shine through in their catering choice: a delicious taco truck. It was the perfect way to unwind after the ceremony. Friends and family were able to mingle without formality and were able to seriously enjoy each other's company.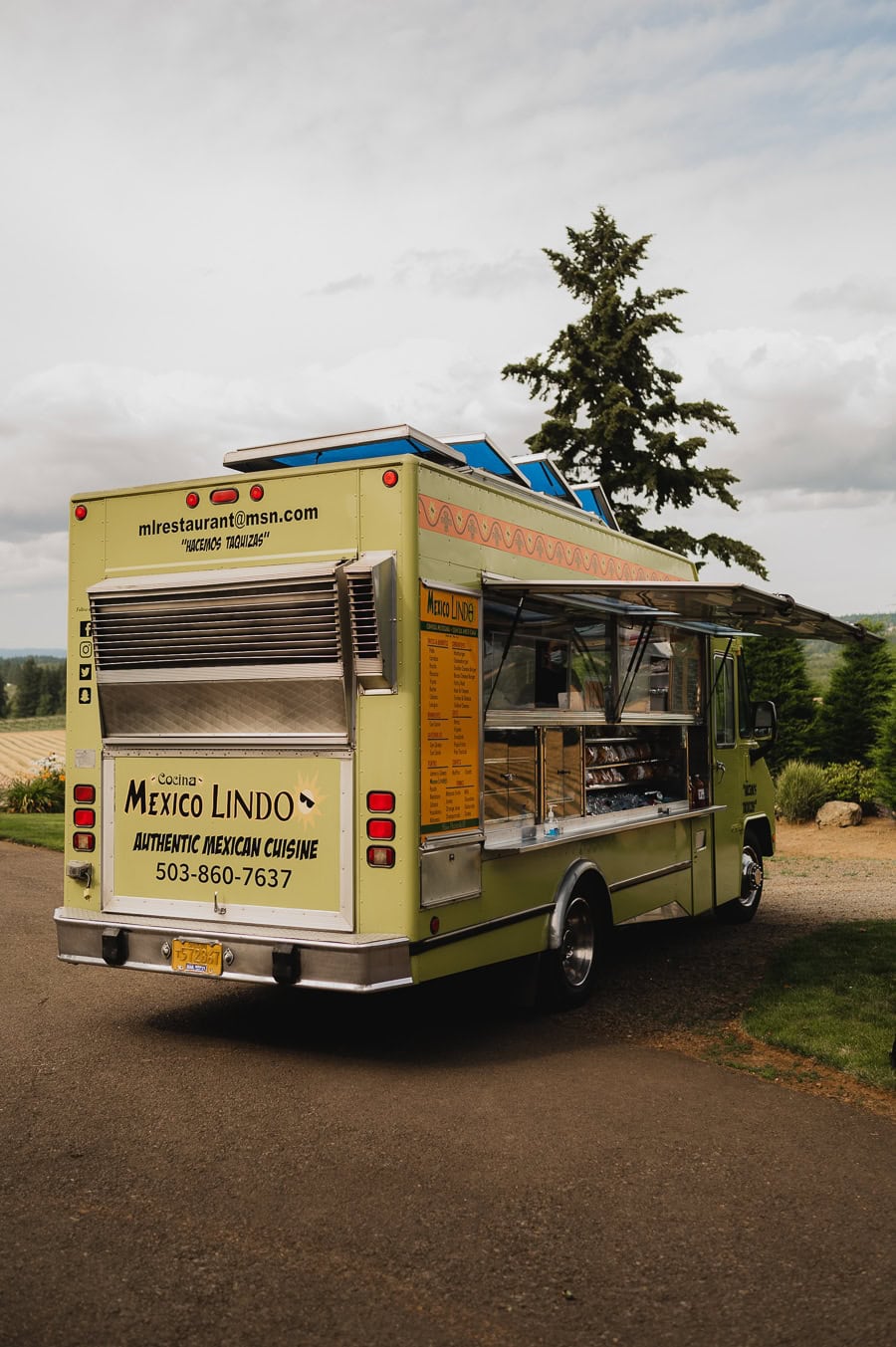 Affection, inside jokes, and smiles came easy between Kennedy and David. This was a day full of dynamic interactions: from high energy congratulations to emotional tears, the ceremony and reception were brimming with meaningful moments. A larger selection of their wedding day photos can be found here.
Scholls Valley Lodge is located in Hillsboro, OR, just outside of Portland. There's a lot to do nearby from outdoor activities to wine tasting, here are the highlights:
Wine Tasting

If you love wine, wine tasting has to be on the list! Especially if you get to stay up the road at the Lodge. Explore nearby vineyards and bring home some legendary Oregon wines. Here are just a few:
Raptor Ridge: Named for the birds of prey that are frequently seen on the property, this vineyard is just 4 miles away from Scholls Valley Lodge. Owners Scott and Annie Shull have poured their passion for wine into this project and it shows. For a down-to-earth but delicious wine experience, pay them a visit. Plus, they are a premier Oregon Gruner Veltliner producer, for those with a taste for Alsatian wines. Of course, they also produce beautiful Oregon Pinot Noirs as well.
Ponzi: Another mile down the road is this classic Oregon winery. Currently run by second-generation Ponzi family winemakers, Ponzi has been producing Oregon Pinot Noir since the '70s. This is a highly regarded vineyard, and can't be recommended enough. Visit their tasting room and enjoy scenic views, get cozy by the fire, or even play a game of bocce ball. (Note: reservations are recommended.)
Alloro: Two more miles southeast is Alloro. Alloro is set on a sprawling 100-acre farm, 34 of which are dedicated to vineyards. With its brand new tasting facility, this is a must-visit vineyard for an elegant wine tasting experience. Mostly a producer of Pinot Noir, this vineyard also has a small offering of muscat and riesling which can be exciting and complex coming out of Oregon.
Get Outside
There's nothing like shaking off some nerves and bonding with new friends and family over a hike. For some pre/post-wedding outdoor activities here are a few favorites in the area:
Cooper Mountain Nature Park: Just seven miles away, this small nature park overlooks the Chehalem Mountains and Tualatin River Valley. It's accessible to most, featuring a small loop hike that runs the perimeter of the park. Enjoy nature over a leisurely stroll along its well-maintained paths, enjoy the summertime wildflowers and maybe even witness a rare species of frog by the pond. It has a play area to keep children entertained, if the whole family decides to come along.
Tualatin River National Wildlife Refuge: Enjoy the abundance of the Tualatin River Valley with a visit to the Tualatin River National Wildlife Refuge, where you can enjoy a walk through five habitats. One of a handful of urban wildlife refuges, this is a special place to go to appreciate nature. The Refuge is home to a wide range of birds, mammals, and reptiles alike, and boasts more species diversity than surrounding areas.
It was such an honor to photograph Kennedy and David's wedding, congratulations to the lovely couple!
-Special Thanks- Ceremony Music: John Ross Music, Linens: Bridgewood Events, Officiant: Shawn Dean, Videography: Watertown Films, Cake: Luxe Sucre, Wedding Planning: Gratitude Event Planning, Catering: Cocino Mexico Lindo, Florist: Seventh Stem, Menswear: Tom and James, Dress: A and Be Bridal Shop, Hair & Makeup: Olivia Hawthorne, Venue: Scholls Valley Lodge